All options are loading - Please stand by a few seconds
Description - Technical information - documentation
Description
Want to create your custom shelving system? STRING SYSTEM ® is a scalable solution that authorizes thousands of combinations.
For the kitchen, the living room, your office, the bedroom, your bathroom, the garage... you choose a solid and very attractive shelving system.
The excellent quality of these items, will satisfy you many years.
Choose from the many dimensions options and color options below, and yes, invent a solution that will perfectly fit your needs.
When NILS STRINNING creates STRING® in 1949, he managed something, that very few architects or designers have made. He created an icon.
STRING® was an instant success, and became one of best shelving system. Over sixty years later, STRING® is more popular than ever. So what's the secret? From the very first sketch, STRINNING designed a shelf that could take on many different looks.
Painstaking attention to detail: he created a system where each piece could be combined with others, in almost endless permutations.
STRING® is not just a shelf, but a furniture that can be infinitely varied. Anyone can customize its own STRING®. It can be big or small. It works as well in the kitchen or in the bathroom, in the library or in the lounge.
And because STRING® has the rare distinction of being an affordable piece of designer furniture, it's easy to be inventive and playful. All components are manufactured in SWEDEN. The basics haven't changed since 1949, so it's never too late to add new elements and give your STRING® a different look.
Floor panel, placed on the ground: Maximum weight of 150 kg (per panel).
Wall Panels: Max weight of 75 kg (per wall panel).
Shelves 78 cm: Maximum weight of 15 kg (per shelf).
Shelves 58 cm: Maximum weight of 25 kg (per shelf).
Shelves thickness: 18 mm
Thickness of the uprights (steel wire): 5 mm.
About STRING
STRING FURNITURE - Limhamn Sweden
STRING modular shelves, Scandinavian and timeless design.
Founded in 1949 by the famous Swedish architect Nils STRINNING, the STRING brand today offers a wide range of furniture, drawing its inspiration from the Scandinavian design.
It was by participating in a design contest organized by the Swedish publisher Bonniers FOLKBIBLIOTEK that the brand had its first huge success with its String Shelf: a revolutionary piece of furniture due to its minimalist structure, unlimited modularity and timeless design.

From the String System modular storage system to the stylish String Pocket or String Furniture shelf, the complete range is indeed very easy to carry and even more convenient to mount! Lightweight, practical and customizable, these pieces of furniture will, without any doubt, allow your imagination to run free!

You can choose from a wide range of options and colors to create, according to your desires, your personalized furniture, perfectly adapted to your needs. Each piece of furniture blends into any interior decor, whether it's in a kitchen, living room or library. The high stability of these shelves allows you to store any object on the different sets of shelves offered.

Unchanged since the creation of the brand, the timeless design of the String Furniture products also allows you, in addition to this, to combine old shelves with more recent shelves of the brand. My Deco Shop invites you to discover, without further delay, the products that have made this brand a must-see in Swedish design.
View more
Technical information - documentation
Suitable for use in a professional environment
Videos: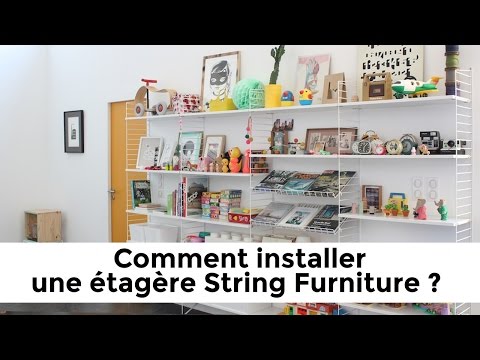 View more
Business account
Are you purchasing furniture on the behalf of a company (small or large) or an administration? or, are you an architect, decorator, or designer?
A professional account at My-Deco-Shop allows you to benefit from best pricing conditions, and gives you access to some reserved information (3D files, technical drawings, ...)
My-Deco-Shop offers a professional service, available from 9 am to 10 am (Time zone of Paris / France) 7 days a week, to advise and accompany you in all of your projects.
click here to access the trade account creation form
We will process your request within the next hours day.
Have access to your best pricing conditions and our specialised customer service.

Read reviews
Read reviews
Write a review
Site reviews :

By

Marie A.

(Maisons Alfort - France)

Title : Comment from Marie A.
Comment : Very good customer service.

Translated from French

By

Michèle Anne A.

( Taulignan - France)

Title : Comment from Michèle anne A.
Comment : good product, aesthetically and functionally compliant its presentation on the site.

Translated from French

By

MAUD O.

(Firminy - France)

Title : Comment from Maud O.
Comment : Very good

Translated from French

By

Guillaume G.

(Eckbolsheim - France)

Title : Comment from Guillaume G.
Comment : Always top service Bravo

Translated from French
Read all reviews on Trusted Shops
Show room
ABOUT A CHAIR, AAC22 armchair - 100% recycled plastic, wood base, optional fixed cushion. HAY