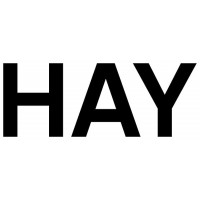 Accessories HAY for a very Scandinavian decoration
HAY offers practical and colorful accessories of very good taste: cushion, storage, mirror, plaid, rack, hanger, tray...
These objects will bring an elegant and warm atmosphere to your interiors. The cushions and plaids are soft and comfortable, in quality fabrics. The mirrors and trays will pleasantly decorate the room while the racks will perfectly accommodate the jackets and coats of your visitors. My Deco Shop offers a complete range of colors for each accessory of the brand HAY.
Other inspirations of the brand HAY : Chair and stool - Sofa - Table - Carpets - ABOUT A CHAIR
No products found matching in this section
Click here
if you want to search the entire site or change your search request above
HAY - Horsens, Denmark

HAY was founded in 2002 with the ambition to create contemporary furniture that uses sophisticated industrial manufacturing to satisfy the needs of modern living. Today, this fundamental goal remains our mission: through our commitment to the design and production of furniture, lighting and accessories with an international appeal, we strive to make good design accessible to the largest possible audience.

Inspired by the stable structures of architecture and the dynamics of fashion, HAY combines the values of both industries in durable, quality products that provide added value for the user. HAY's continued vision is to create straightforward, functional and aesthetic design in cooperation with some of the world's most talented, curious and courageous designers. This results in many fruitful collaborations.