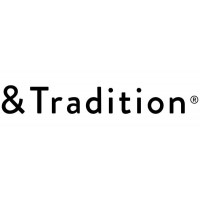 AND TRADITION honors tradition and innovation
AND TRADITION is a Danish design company, founded in 2010, which aims to highlight the creations of a collective of designers known throughout the world.
It is indeed thanks to various exhibitions such as the BMW Museum Munich and the MoMa that the brand has been able to establish its international reputation.
AND TRADITION offers, as of today, various product ranges from the classic designs of Verner PANTON and Arne JACOBSEN, to the more contemporary designs imagined by Benjamin HUBERT or Victor VETTERLEIN.
The aim of the brand is to offer aesthetic products, design, with a timeless and irreproachable quality. By paving the way for new designers, AND TRADITION emphasizes its desire to link its Scandinavian origins with innovation.
"We use and combine new materials, discover new techniques and break the limits in manufacturing. Our products challenge the limits of function, shape and materials." - AND TRADITION
Thanks to My Deco Shop, you will have, among others, the opportunity to discover the range of lighting fixtures of the AND TRADITION brand, such as the FLOWERPOT lamp range by Verner PANTON, which beautifully highlights quality and Nordic design, or the SPINNING LIGHT suspensions by Benjamin HUBERT, which combine sensuality and refinement.
The fresh and contemporary designs of its creations, as well as their numerous variations of colors will undoubtedly enhance your interior decoration, whatever your style is!
No products found matching in this section
Click here
if you want to search the entire site or change your search request above